Bali Island is one of Indonesia's favorite tourism sites located in the east of Java Island which is already well-known throughout the world. Besides being known for its marine charm, Bali is also known as a repository of unique arts and culture that is still preserved. There are so many attractions in Bali that you should not miss when you visit this Island of Gods, what are those places? let's look at it.
Kuta Beach
Kuta Beach is a tourist attraction in Bali which is the most famous and most visited by tourists, because of its very strategic location, Kuta Beach also offers the beauty of a very beautiful beach, the cost is very cheap, and certainly the waves are suitable for beginner surfers.
Kuta Beach is also famous for its famous sunset which is very beautiful. In addition to the beach's attractions, Kuta's tourist attraction offers so many choices of places to stay, available from cheap hotels to luxury hotels that are located close to Kuta Bali beach. In addition to the ease of finding hotels, finding places to eat around the attractions of Kuta is also very easy.
The tourist area of Kuta Bali at night turns into a nightlife center such as a discotheque and a night club. If you really like nightlife, then Kuta tourist attractions are the perfect place for you. Usually every Thursday there will be ladies night, so girls are allowed to enter without entrance fees
Tanah Lot Temple
Tanah Lot Temple is one of the tourist attractions in Bali which is famous for its beauty, especially at sunset. Tanah Lot Temple which consists of 2 temples which is a place to worship the sea god. The uniqueness of Tanah Lot Temple is the location of the temple which is located on a large rock on the seafront. At high tide, you cannot get close to Tanah Lot Temple because around the supporting reefs of Tanah Lot Temple, it will be inundated with sea water, while at low tide you can see some benign sea snakes which according to local residents are the guardians of Tanah Lot Temple. In addition, at this location you can also hold the sacred snake, because it is already known to be docile and harmless.
Ubud
Ubud is a village name about 40 km from Denpasar airport, if you drive a car it can be taken in about 1 1/2 hours. Desa Ubud, is a village that is very thick with authentic Balinese culture, so if you want to know about authentic Balinese culture, don't forget to visit this one.
Sanur Beach
Sanur beach tourism in Bali is perfect for your children's vacation. Your children can swim in the calm and deep sea currents. Besides that your kids can play ball on white sand. For those of you who want to introduce your children to underwater marine tourism. The easy entrance to this Sanur recreation location is from Ngurah Rai Tuban airport, the distance is about 10 km. When driving a car, it takes about 30 minutes. The beach is also known as the sunrise because, Pantau Sanut has calm waves, making it very suitable for snorkeling.
Nusa Dua Beach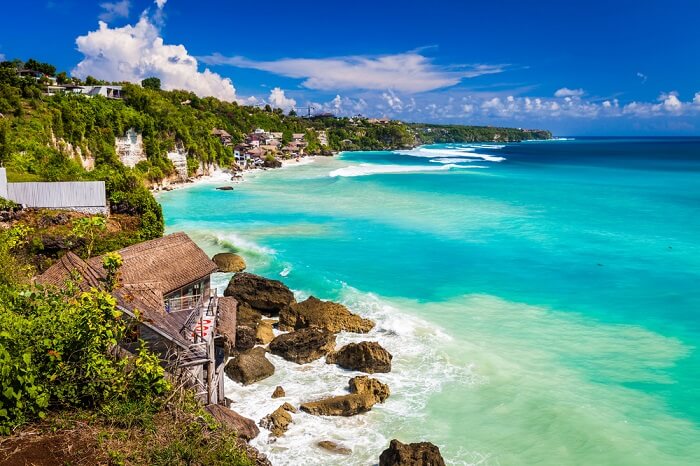 The Nusa Dua tourism area is also adjacent to the Tanjung Benoa tourist area. Therefore, if you want to take part in Tanjung Benoa watersports activities, you only need 15 minutes of travel time. This tourism object is one of the tourist destinations for tourists visiting Bali, which is located in Badung Regency, in the southeastern region of the island, 15 km from Ngurah Rai Airport, 35 km from Denpasar city. Having a white sandy beach makes this place even more popular among tourists. Usually this area is chosen by tourists who really enjoy their vacation to rest in hotels, resorts and starred cottages spread along the coast of Tanjung Benoa to Nusa Dua.
Lovina Beach
Lovina Beach is located in North Bali close to Singaraja City, you will go to the middle of the sea and see dolphins using a fishing boat. Lovina Beach dolphins play by the beach in the morning, therefore tourists usually depart from the beach starting from 6am. Lovina Beach is one of the attractions in Bali that showcases the beauty of dolphins, because in Lovina Beach we can indeed see dolphins swimming and jumping in their natural habitat.
Jimbaran Beach
Jimbaran Beach is famous for its beach side cuisine, especially its seafood. Jimbaran Beach for those of you who want to enjoy beach tourism while enjoying a culinary tour of Bali. No need to worry about eating food at Jimbaran Beach because the waves at Jimbaran Beach are very calm, no harm to those of you who are eating on the beach. Jimbaran Beach is one of the most famous tourist attractions in Bali. When you come to Jimbaran Beach, the first thing you will see is a row of tables and chairs to eat on beautiful white sand.
Tanjung Benoa
The uniqueness of Tanjung Benoa attractions is the availability of many types of marine tourism games which are more well-known as Tanjung Benoa watersport Bali. Almost all watersport activities in Tanjung Benoa take place on the beach of Tanjung Benoa.
Because there are so many choices of Tanjung Benoa watersport game activities, Tanjung Benoa tourist attractions are often referred to as the center of marine tourism activities on the island of Bali. Tanjung Benoa watersport games that are most in demand by Indonesian tourists such as:
Bali parasailing adventure (parasailing flying together, sometimes three of us at once).
Riding a jet ski.
Single parasailing, a parasailing vehicle for one participant.
Seawalker activity or sometimes referred to as ocean walker.
For tourists who vacation with children, try to ride a banana boat.
Dreamland Beach
Dreamland Bali beach is in the Unggasan hill, 1 lane to Garuda Wisnu Kencana. Bali Dreamland Beach is famous for the beauty of soft white sand and blue sea that makes everyone feel at home for long. Dreamland Beach also has a fairly large bath, so it is very suitable to be used as a surfing spot.
Taman Ayun
Taman Ayun is a very large temple complex, located in the Mengwi Subdistrict, Badung Regency, Bali, approximately 18 km from the heart of Denpasar City. After we pass the entrance, a well-maintained wide park welcomes arrival, with truly green grass beautiful, but unfortunately on a hot day this can be very heavy because there are no large trees to provide shade in this park. When we look for shade, the back garden is the answer. It would be very nice to take a walk on the cobblestone path under large trees accompanied by the sound of birds singing.
Taman Ayun literally translates as a beautiful park and is considered to be one of the most attractive temples in Bali. Built in 1634 by King Mengwi, I Gusti Putu Agung. This temple is bordered by a wide river that irrigates the rice fields around the location. This temple is dedicated to the ancestors of the Kingdom of Mengwi and other important gods. Taman Ayun Temple is considered the "Central Temple" for the Kingdom of Mengwi.